A LOOK BACK at Hangar 5.org

At the time this site was constructed, this is the only known group photo of "B" shift sheet metal department. Although the time and location of this photo is unknown, the names of almost all of the men in this photo are listed here. This photo represents roughly 65% of the Hangar 5 "B" Shift Sheet Metal Department personnel which consisted of 4 crews. All four of the crew chiefs are in this photo, Bill Canepa in the center, "Mac" McMinn to the right of Bill. George Acker is far right and Reuben Skogsberg is on the far left. The Chief of the "B" shift sheet metal department, Clyde Estey, is to the right and in front of Mac McMinn.
The names listed below are not in the order of the photograph. Please see "Photo Crew 1-4 names", which shows the name and location of each person in the photo.
Warren w. "Bill" Canepa, Ramon "Mac" McMinn, Jim Cherry, Richard Wright, Louie Muller, Martin Johnson, Reuben Skogberg, Clyde Estey, Melvin W. Phillips, Robert F. Gerstman, Sanford W. Davenport, George L. Acker, Leonard Levine, John C. Allen, Loythel D. Parradee, Clarence M. Mikkelson, Richard W. Welsh, Harold H. Kowarsky
Coming soon:
Bill and Carol Canepa documented Bill's experiences during World War II, and soon this story will be presented on this site. Please check back for other updates as well.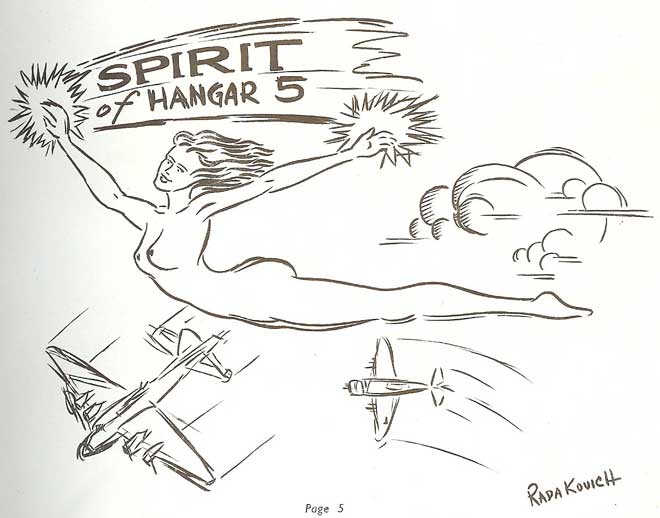 drawn by Walter A. Radakovich